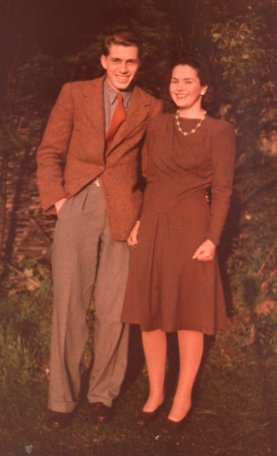 Dufaycolor was one of half a dozen colour transparency systems.
Colour prints were not generally available.



Recognised by the rather dark finish with muted colours the Dufay system relied upon a fine red/green/blue grid filter. When seen through a magnifying glass the finish is a fine series of regular dots reminiscent of printed colour half-tone. They are not common.
The original 90mm x 60mm looks like an ordinary negative until held up to the light.
The Dufay system filtered out too much light. Rival Kodachrome and Agfacolor systems produced brighter transparencies and eventually colour prints. Colour film did not outsell Black & White film until the 1970s.

He is dressed in typical casual wear of the day, a tweed Sports jacket "Oxford bags" trousers with turn ups. This style remained popular with undergraduates and teachers throughout the fifties.