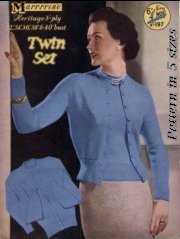 The pairing of a lightweight cardigan over a lightweight crewneck pullover, was known as a "twinset".
More often the two garments would be in a plain matching colour although this woman, to be less formal and more individual, wears a striped pullover and knots her pearls. .
The fashion came to Britain from the USA. The pastime of handknitting was at its zenith

and large numbers of Twinset knitting patterns were sold.
The phrase "Twinset and pearls" came to define women who never abandoned this style as "smart casual" wear.