Thirties

• Female Regulation Swimming Costume
• School & Swimming Club Regulation style bathing costumes•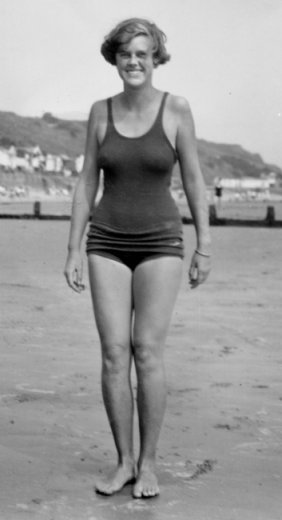 In general all Regulation costumes are knitted and have singlet tops

but may feature legs of varied length or vestigal skirts

.
Between the wars the introduction of swimming lessons in schools increased ownership of Regulation style bathing costumes.
Schools and swimming clubs dictated the style to be worn in their regulations; they did not allow extremes in style or cut.
At the same time other factors including the gradual spread of paid holidays in industry saw outings and family holidays increase.
These were the golden years of the British family seaside holidays.
Photographs from this time often show children and young adults on holiday wearing school regulation costumes for the beach. School or club regulations changed slowly and outgrown costumes were handed down so leg style is only a rough guide to the date.
Owning two bathing costumes; one for school or club and one for the beach would be considered wasteful and extravagant.
Often you may see initials embroidered on the front; either the owners initials or those of a school or swimming club.
You will see the more stylish patterned and cut-away costumes but these will tend to be worn by older women.
• Above dated 1932 •
The style reflects school or swimming club policy rather than fashion or choice.