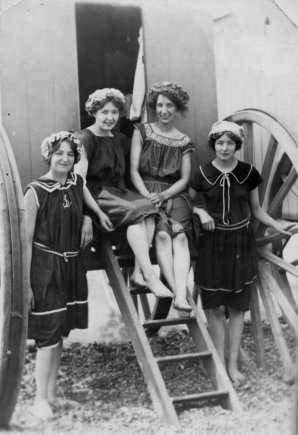 "Bathers" wore tunics over bathing drawers as we see on the left and below. Anchor motifs and taped edges gave a nautical look.
This style persisted into the early 1920s.
At the Seaside emphasis was gradually shifting from Sea-bathing to swimming. Sunbathing was many years away.
Many people still did not own their own bathing costumes and it is difficult to judge the date of hired costumes.In common with any "one-size-fits-all garment" they are rather shapeless.

Younger women who took swimming seriously donned knee length one piece knitted garments shown above & below and on the right.