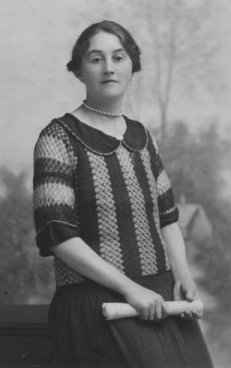 Before the 1920s few adults would have posed for a photograph wearing knitwear.
Knitted items were originally only associated with underwear or sports activities.
The word Sport appears frequently in advertisments and knitting patterns of the day, where we would probably use the term "casual".
Home knitting had grown into a major pastime and interest.
Colours during this decade generally would have been muted. This lady wears what I imagine was a splendid jazzy item, in contrasting colours. Youngsters wore knitted shirts and blouses and men wore knitted waistcoats and ties.